German Cockroach Facts & Information
German cockroaches are pretty common household pests, and their quick reproductive cycle and resistance to pesticides make them challenging to eliminate. We'll show you how to get rid of German cockroaches and keep an infestation away from returning.
The German cockroach is the most common roach found in homes, apartments, restaurants, and other businesses. They are a small species (13 – 16 mm long) that are usually light brown or tan in color. One of the easiest ways to identify German cockroaches is by the 2 dark, horizontal stripes located behind the head. German roaches have wings, but they prefer just to run very fast.
Why choose Vanquish Pest Control?
Your local Vanquish Pest Control is trained to help manage German cockroaches and similar pests. Since every building or home is different, Vanquish Pest Control will design a unique cockroach treatment program for your situation.
Vanquish can provide the right solution to keep German cockroaches in their place…out of your home, or business.
We guarantee cockroach extermination – if they return within six months, we'll come back for free.
Worried about How to Get rid of German Cockroaches? - Hire a Certified Pest Control
A professional pest control service can be the perfect remedy for so many problems. Just think about how stressful it can be if you are cooking in your kitchen, and a cockroach scurries across the table. However, the amount of stress and time that goes into exterminating roaches can almost defeat the purpose–which is where we come in. We've been offering pest control services for many years and use a variety of effective tactics that are sure to exterminate roaches for decades from your property.
Vanquish has only locally trained and certified technicians for cockroach removal.
Our techniques are carefully crafted to effectively exterminate roach infestations, this is done without causing any harm to anyone else.
We offer affordable and eco-friendly solutions for permanently exterminating roaches.
We also treat the possible entry points of roaches to stop them from invading your property in the future.
Get rid of German Cockroaches from your Home & Business
One of the smallest species of roaches, the German cockroach can be found nearly everywhere humans live, across all over the Southern Ontario. Not only is it excellent at adapting to many climates and environments, but it's also resistant to many common pesticides. A huge German cockroach infestation can result from just a few eggs, so it's important to be thorough and consistent in treating these pests.
Because these cockroaches can be so difficult to eliminate, it's often a good idea to hire a professional pest control provider to truly get rid of German cockroach populations. Pest management experts will know the right methods to use to get rid of the infestation at its source.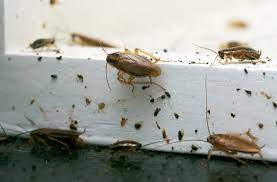 How can you Kill German Cockroaches and Prevent an Infestation?
Getting rid of German cockroaches is best accomplished through a combination of these methods:
Bait them
Since they are looking for food and water, a carefully crafted blend of food, water, and insecticide Bait is a good way to kill roaches hiding behind walls and in cracks. Place one bait station every 6 feet in kitchens and bathrooms, along baseboards, in cabinets, and wherever else you notice activity. The food lures them in, then they take the deadly bait back to share with the rest of the colony.
Spray them
Another option is to spray German cockroaches with a no-stain insect killer. Use it on non-porous, non-food surfaces wherever German cockroaches travel and hide—it kills on contact and sanitizes surfaces, too. Don't use this method if you have roach baits set, though, as roaches need to be alive to share the bait with other roaches.
If you have kids or pets, or prefer something formulated with essential oils, try Ant & Roach Killer with Essential Oils which contains 5 different essential oils, including cinnamon oil and clove oil, this spray is effective at getting rid of many common species of ants and cockroaches, including the German cockroach. It starts killing in seconds, so spray directly on bugs, then wipe away any excess oil. But it is imperative to create a barrier before spraying directly on the pests. Otherwise, there is a big risk that the surviving roaches will escape from their nest and spread to other areas of the house.
Prevent them
German cockroaches are bacteria- and virus-carrying insects that can produce a strong-smelling secretion, so it's as important to prevent future roaches as it is to get rid of the ones that have already made it inside. That's why it's a good idea to create a bug barrier that kills existing roaches and also prevents others from invading your home. Alternatively, you can also use a fast-acting, non-staining, fume-free spray that helps control German cockroaches and other listed insects for up to 12 months indoors on non-porous surfaces.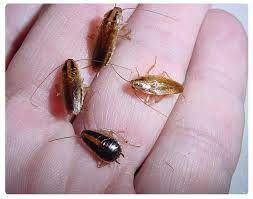 Customer Reviews
Corinthia Thompson
6. November, 2022.
Vanquish Pest Control provides good customer service. The technician took time to provide us with an understanding of what the problem was, what they did and provided recommendations of things we should do.They did a very good job and they are receptive to calls after if we have questions. I would definitely recommend them and would use them again.
HARSHVIR KAUR
5. November, 2022.
I usually don't put reviews but couldn't stop myself this time . The service is too good .
Olexandra Storozhko
11. October, 2022.
Super great service with extermination guarantee! Our stubborn wasps didn't die upon first treatment, so Asif made sure he finished the job with a second no charge visit! Highly recommend.
ramneet Brar
11. October, 2022.
Vanquish Pest Control was very easy to contact and extremely accommodating! We got the treatment done and hours later all of the bugs were almost completely gone. Even after the fact, they still contact you to follow up on how everything is going and to see if there are any issues! Highly recommend Vanquish Pest Control for all of your pest control needs!!
Arusa Ismaili
30. September, 2022.
Asif sprayed our basement interior and exterior entrance door a sewbug issue we were having. He sprayed a few weeks ago and within a day we started seeing results. Bugs we're still somehow making it inside but they would die very soon after getting inside. Weeks later we were still seeing many many dead bugs around the entrance inside and outside. Asif texted me to check in and see how the treatment was working. After I told him that we were still seeing many bugs make it inside before dying, he very graciously asked if we would like another treatment on a dry day to see if he can retreat the outside and hopefully prevent more bugs. He did this for no additional charges. Such a great person and excellent service! Would highly recommend.
AA Rebello
29. September, 2022.
Prompt response. Asif gave advance notice of his arrival and got to work right away with great results. He went over and above explaining what he was doing and why.
Natansh Rehan
24. September, 2022.
Great experience definitely worth it
Harman Gill
23. September, 2022.
Jason Martins
21. September, 2022.
Just moved into my new home with my family and little did we know the house was on the verge of huge cockroach disaster luckily we hired vanquish pest control and he made sure he got every little critter out and made sure after he was done that they were all gone he was quick and efficient and a huge life saver! Thank you once again for everything!!!
Lovleen Sidhu
20. September, 2022.
Great Service I will recommend him for his professionalism, great and quality work. So far no issues after removing cockroaches and squirrels. Thanks again for your help with it.
Call us for a FREE ESTIMATE!