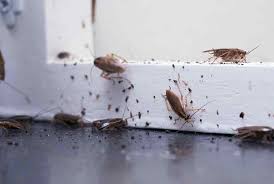 Professional, Reliable & Licensed Cockroach Extermination Etobicoke
Vanquish Pest Control is the trusted and reputed company for Cockroach Extermination Etobicoke and neighboring areas. Our mission is to ensure that your surroundings – be they home or business – remain healthy and safe. Vanquish Pest Control is well-equipped to provide our clients with effective services that are tailored to their unique requirements. Whether private or commercial, our clients can rest assured knowing they are in good hands. We are so confident in the quality of our work that we will offer our clients a six-month guarantee. If any issues arise after the initial visit, we will keep coming back until it has been rectified.
Call us now for a Free Estimate!
100% Satisfaction Guarantee
6 Months Warranty
Vanquish Pest Control are a high-quality and professional group of pest experts in Etobicoke offering quality assurance programs for unwanted pests. Our company offers you the best quality Cockroach Extermination Etobicoke & Pest Control services at the most affordable prices.
Cockroaches are one of the most found and dreaded pests at residential and commercial locations. Seeing cockroaches at home is severely unnerving and can change your outlook on the home. We strive to create healthy and safe, pest-free living conditions for all of our customers.
To prevent or eliminate pest problems call us or request a quote for Free!
Call us @ 647-403-0456
How to identify that you have a cockroach infestation?
If you've noticed a brown tiny, purse-or-bean shaped capsule in your kitchen or bathroom, it means that if you don't already have an infestation, you're about to.
It's egg sac carrying dozens of cockroaches inside and they're going to invade your home.
You'll see plenty of signs to identify cockroach infestation:
You'll will see droppings and cluster of tiny black specks popping up in new places every week.
You'll encounter more and more roaches living or dead in your kitchen, floors and walls, closets and around your drains.
You'll start finding egg sacs in cardboard boxes in storage and many more places.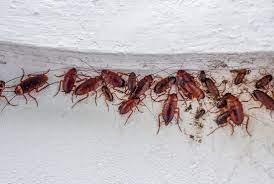 Pest-Free 6 Months Guaranteed | Cockroach Extermination Etobicoke
Routine pest prevention is more cost – effective, safer and leads to better life.
Our interior services are performed in a way that places products in areas where pests' nest and traffic. We will ensure that the pests interact with our products and not you and your family by treating the cracks and crevices throughout your home.
Ask us today about our Residential Protection Plan!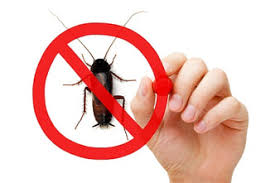 What's included in our Cockroach Extermination Etobicoke services?
If you are struggling with a cockroach problem, it is very important to take help from professional Cockroaches exterminators. Vanquish Pest Control Etobicoke consists of a team of professionals who can help you with your pest problems.
Many homeowners try to kill these nasty little insects on their own, which can be very risky. Taking help from professionals can be beneficial for you.
Reasons for Hiring professionals for Cockroach Extermination Etobicoke
The professionals of the Vanquish Pest Control eradicate all types of cockroaches from your property and make your house free from disease-causing pests. Here are some of the reasons why you should hire professional Cockroach Extermination Etobicoke experts.
Reduce Health Issues-Many health problems can occur as a result of cockroach invasion in your home. Hiring professionals reduce the potential health risks. The Vanquish Pest Control team exterminates the cockroaches, leaving no signs of these nasty insects in your home.
Less Pesticide Use-Our professionals use fewer pesticides, and that too in a safe manner under the guidance from the ministry of Environment. By following the Integrated Pest Management (IPM) principles, we ensure people and pets' safety in the house. Therefore, it is better to take help from professionals with years of experience and knowledge in this area.
Well Equipped-Our team resolves all your issues. We have all the tools and equipment required for the eradication of cockroaches. We come with all the essential tools and techniques to satisfy our customers.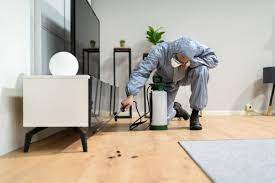 Why Choose Us for your home or commercial Cockroach Extermination Etobicoke?
Vanquish Pest Control strives to deliver better and more comprehensive services to our valuable clients in Etobicoke and all over the Southern Ontario. While other companies in the pest control industry do the bare minimum, we go above and beyond to ensure your property is pest-free and remains pest-free.
Vanquish Pest Control is well-equipped to provide our clients with effective services that are tailored to their unique requirements. Whether private or commercial, our clients can rest assured knowing they are in good hands.
We are so confident in the quality of our work that we will offer our clients a six-month guarantee. If any issues arise after the initial visit, we will keep coming back until it has been rectified.
A professional pest control service can be the perfect remedy for so many problems. Just think about how stressful it can be if you are cooking in your kitchen, and a cockroach scurries across the table. However, the amount of stress and time that goes into exterminating roaches can almost defeat the purpose–which is where we come in. We've been offering pest control services for many years and use a variety of effective tactics that are sure to exterminate roaches for decades from your property.
Vanquish has only locally trained and certified technicians for Cockroach Extermination Etobicoke.
Our techniques have been designed to exterminate roach infestation without causing harm to anyone else.
We offer affordable and eco-friendly solutions for permanently exterminating roaches.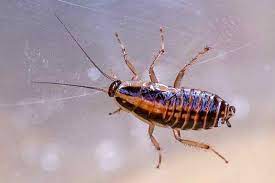 3 Common Cockroach Species Found in Etobicoke
German Cockroach
If you spot a small cockroach between 12 to 15 mm, the chances are high that German cockroaches are active on your property. They love to live and breed indoors in warm areas that have higher humidity levels. German cockroaches are known for their particular diet as they can eat soap and toothpaste in the absence of food.
American Cockroach
When you see a cockroach of 50 mm crawling in a reddish-brown or mahogany colour, they are American roaches. They prefer to live and breed in sewers but can enter homes or commercial spaces searching for food. If you spot American Cockroaches indoor or outdoor on your property, Call Vanquish Pest Control to get rid of them quickly.
Oriental Cockroach
Oriental cockroaches are 25 to 32 mm in length and can be found indoors and outdoors in commercial or residential properties under leaves, damp stones, mulch, decaying debris, porches, sewers, and drains. They can be difficult cockroaches to remove. Call Vanquish Pest Control Etobicoke to help get rid of them permanently.
Why Etobicoke Residents Don't Want Pest Control to Be a DIY Effort
Homeowners are tenacious people. They spend so much time working on their homes themselves and making improvements, that when many discover they have a pest problem they think it's something they can handle on their own.
While the can-do attitude is an awesome one to have — especially in the game of homeownership — pest control is its own beast.
Pest control professionals are highly skilled and educated not simply on pest activity but also on the methods to deal with them safely in your home.
When you attempt pest control on your own, you're taking some big risks with you and your family's safety.
The use of over-the-counter pest products to deal especially with roaches are not recommended by pest control experts, because it may make the problem worse. These products may simply repel the roaches rather than killing them all, resulting in the scattering and formation of more nests around the home or building and becoming even harder to eradicate.
Hire a Pest Control Professional
When it comes to getting rid of roaches, your safest bet is to find a reputable pest control company. If you want to get rid of cockroach infestation, you should speak with professionals serving Etobicoke commercial and residential property owners. By doing this, you will effectively exterminate cockroaches and pests from your property and avoid harming kids and pets. Through a professional cockroach control team, you can get long-lasting relief from unwanted creatures active indoors and outside of the property.
Residential & Commercial Cockroach Extermination Etobicoke
Cockroaches are a bad sign for any restaurant or hospitality business owner.
Vanquish Pest Control Etobicoke offers professional cockroach extermination services, ensuring that 100% of existing cockroaches and their eggs are exterminated from your commercial and residential property. We provide cockroach maintenance packages to commercial clients, which provide peace of mind, ensuring cockroaches are never present on the property.
Our Cockroach Extermination Etobicoke services are more affordable than any other cockroach control company in Etobicoke and all over the Southern Ontario. Contact us now for a free cockroach control quote.