Do you have a large wasp nest problem in the soffit or near the porch area and if you are looking for a professional Etobicoke wasp nest removal?
Or, do you find Yellow Jacket nest in the backyard or in the wall of your front door?
If the answer is yes, then you have arrived at the right place!
Professional and Guaranteed Wasp Control Solutions by Vanquish Pest Control
Vanquish Pest Control is the most trusted and affordable pest control service provider in Etobicoke and through the Greater Toronto and Hamilton Area (GTHA). We are listed among the three best rated pest control company in Brampton for the year 2023.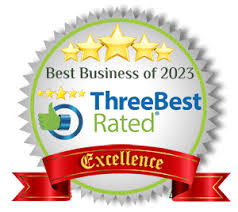 Wasps are dangerous to have around and we at Vanquish Pest Control take this seriously and ensure that our customer's homes are not infested with them anymore. We offer effective removal of wasps and hornets from Etobicoke homes and use trained professionals to accomplish it. All our wasp removal programs are conducted using approved insecticides and they are totally harmless to residents and their pets. Our experts will conduct a thorough inspection, identify the nest's location, and use targeted treatments to eliminate the wasps. We also offer advice on preventive measures to minimize future wasp encounters. Contact us to book our prompt services in Brampton, Caledon, Etobicoke, Hamilton, Halton Hills, Kitchener, Mississauga, Oakville, Toronto and Vaughan.
If contractual pests return following service and within the guarantee and warranty period we will return at no additional cost. We work hard on keeping our customers wasp free. We guarantee every service and provide 6 months extensive warranties to make sure wasps are gone and our customers are happy. Call Vanquish Pest Control for Etobicoke Wasp Nest Removal.
Etobicoke Wasp Nest Removal Solutions by Licensed and Insured Exterminators
Effective, reliable and guaranteed removal of wasps nests in Etobicoke. Licensed exterminators provide safe and reliable services for the removal of every type of wasp or hornets nests, small or large, low or high. We have the know-how, gear, the tools and the insecticides needed to do the job safely and effectively. Call: (647) 403-0456.
Throughout the years that we have been active in the Etobicoke area and beyond we have consistently supported our neighbors with service of a high caliber to help out the numerous families and business owners that live in these flourishing communities.
Our technicians are highly skilled individuals that make up the impeccable team from Etobicoke Wasp Nest Removal that all have an impressive track record of solving the toughest cases imaginable across Etobicoke and beyond. Each technician that visits your home or business is licensed by the Ministry of Environment to ensure a uniform quality of service while at the same time guaranteeing that strict rules and regulations are followed during the removal process. Besides that, all of our technicians are insured to protect themselves and you from unforeseen circumstances during a job. Wasp Removal Etobicoke Solutions also offer time-tested proofing solutions to make that a future infestation is out of the question. Contact us now to find out about the process.
Most Common Types of Wasps Nest Found in Etobicoke
Yellow Jacket Wasps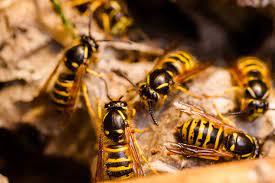 Yellowjackets often look more similar to bees than other wasps do. That's because they're smaller and faster than hornets. However, they are different than bees, in that they don't carry pollen and mostly scavenge for meat and sugar. You'll often encounter them when eating outdoors.
In terms of aggressiveness, yellowjackets will defend their home and they can sting repeatedly. It's not normally as painful as a hornet sting, but it may cause some swelling that lasts for several days. By calling our experienced Etobicoke Wasp Nest Removal experts you importantly avoid this danger.
Nests will be smaller in size, somewhere between a golf ball and a baseball.
Paper Wasps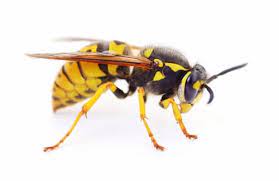 These are some of the most common and abundant wasp species around the world, and also live in Europe and Asia. Sometimes they're mistaken for hornets, but they don't tend to build nests on trees in the same way.
The paper wasp is somewhat more primitive than many other wasp species in how it lives and interacts with others. Their nests can reach up to 200 worker wasps and can be built anywhere, around the exterior of your house, under the shingles of your roof, or even inside your attic.
Luckily, paper wasps don't tend to be very aggressive. They do sting people, but normally only when their nest is threatened. If you've been stung, expect it to be moderately painful. Also be prepared that, unlike bees but like the other wasps we've profiled, they can sting multiple times.
Mud Dauber & Solitary Wasps
Mud Daubers and Solitary wasps are not social wasps hence live and remain alone. The build nests with mud and nurture a single larvae in it. They will be busy hunting and capturing spiders that they collect to feed their young, an activity that may not go well with your family. Their nests on the walls, ceilings and other utility areas of your home can be a nuisance for everyone concerned. They will also sting if you attempt to remove the mud nests for the walls. You can avoid this and get them exterminated without disturbing your daily schedule. All you need to do is to call Vanquish Pest Control, your friendly wasp removal service in Etobicoke.
Hornets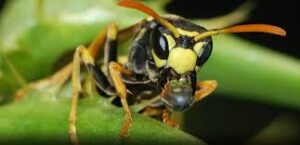 Hornets can deliver multiple stings when they are threatened with the safety of their nests. Swatting at them is a bad idea which will set them off with vengeance. Angered hornets are extremely dangerous to health and the safety of your elders, children and pets. Our experts have vast knowledge of wasps/hornets extermination process and will help you get rid of them without compromising your safety. We use the latest wasps/hornets removal procedures supported by the right tools, and insecticides, hence assure you on complete extermination of hornets from your indoors and outdoors.
How Vanquish Pest Control Etobicoke Differs from other Pest Control Companies?
Vanquish Pest Control Etobicoke strives to deliver better and more comprehensive services to our clients in Etobicoke, Toronto and the surrounding areas. While other companies in the pest control industry offer standard protocols, we go above and beyond to ensure your property remains pest-free.
Our Service Features include:
Interior and Exterior Extermination Services
Windows, Doors, Vents, Front and Back Porch Barriers
Same Day Service
Free Re-Servicing
Protection Plan
Family and Pet Friendly
Power Spray
Pest Prevention Plan
Fully Licensed by Ministry of Environment
Licensed & Certified Wasps & Hornets Removal Services In Etobicoke
We are fully licensed and insured, so you can trust us with your home or business. We offer free estimates on all our services, and we guarantee 100% satisfaction with every job we do.
Sophisticated Equipment and Tools
Our team of experts is trained to use top-of-the-line equipment and tools to safely locate, remove, and get rid of all kinds of infestations. From hornets' nests to beehives, we'll take care of your problem quickly and efficiently at prices you can afford.
We keep our accreditations and certifications up-to-date, ensuring we are staying abreast of federal changes and best practices. You can rest easy knowing you've hired the very best company available in today's market!
Guarantee Period per Pest Type
Bees, hornets, and wasps have distinctive life cycles and behavioral traits that must be managed uniquely. An expert can ensure that infestations do not reappear.
Our licensed technicians provide treatments that are unique to the species. Using our innovative methods, we ensure that the current infestation is effectively wiped out and that the chances of a recurrence are significantly reduced.
Our contribution to various pest control services like, Bed Bugs Extermination, Cockroach Extermination, Mice/Rats Extermination, Ants Control, Fruit Flies Extermination and many more have secured us, HomeStars rating of 10/10. We provide reliable pest control services throughout the GTHA that you can trust.
Call us now for a Free Estimate & Consultation!
(647) 403-0456