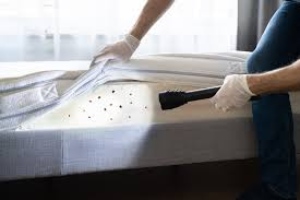 Your Trusted & Reputed Toronto Bed Bug Exterminator
Are you looking for a reputed bed bug treatment company? Or, if you are looking for an experienced & licensed Toronto Bed Bug Exterminator?

You and your family rely on your home every day to provide you with comfort and security, but a bed bug infestation can turn your home into a very uncomfortable place. Bed bug infestations grow and spread very rapidly, and they can be extremely difficult to get rid of. They'll take over your home and make it an unhealthy and uncomfortable environment. You need to call the trusted Toronto bed bug exterminator for the best results.
At Vanquish Pest Control, our professionals understand how important it is to keep your home healthy and comfortable at all times, so we work hard to make sure that any bed bug infestations are eliminated as quickly and effectively as possible. We Toronto bed bug removal experts use spraying, fogging, dusting and unique Aprehend treatment method to thoroughly and accurately eradicate bed bugs as safely as possible. We can guarantee that every part of your home and all of its contents will be totally free of bed bugs.
Give us a call today to ask any questions you have about our bed bug treatment method, or to schedule your appointment, and we'll be looking forward to assisting you.
Tried and Tested Bed Bug Extermination & Treatment Experts
When you need a bed bug infestation exterminated from your home, you need to know that the job is done thoroughly so that the entire infestation is eliminated. Any bugs that are left behind will reproduce rapidly and the infestation will return in a short period of time. That's why you should always hire a professional Toronto Bed Bug Exterminator.
At Vanquish Pest Control, we use spray, fogging and dusting treatment that is guaranteed to be totally effective for bed bugs exterminations in Toronto.
Chemical Treatment:
This conventional chemical treatment is the most economical but effective way of bed bug extermination. Spray mix is applied on the bed frame, baseboards, window and door frames etc. This spray mix has a long-term residual effect. Once dry, it is completely safe for humans and pets. However, the residual factor keeps on working to ensure your premises are bed bug safe.
Fogging is done in the second stage; this is achieved by using state of the art equipment. The small aerosol droplet size of about 5 to 6 micron penetrates all cracks and crevices where the bed bugs live and breed. Pests are instantly killed upon contact with this aerosol.
Silica dust is applied using a power duster as final part of the treatment. This dust is applied in electric outlets and other cracks or crevices. Bed bugs cannot survive once they crawl over this dust.
Aprehend®: A Natural Biopesticide for the Elimination and Prevention of Bed Bugs
Aprehend® is a professional grade product available to licensed pest control operators.
Aprehend is a unique form of treatment for bed bugs, this consists of applying fungal spores. This form of treatment is slightly more expensive than the chemical treatment.
Extensive laboratory studies have demonstrated that when bed bugs cross a treated surface, they pick up and carry fungal spores back to the harborage or nesting area.
Aprehend® doesn't kill immediately. This is intentional and strategic. We want every bed bug to come into contact with the fungal spores first. Only then does the population become infected and die.
If you are looking to kill bed bugs and ways to treat bed bugs effectively, look no further than Vanquish Pest Control. Call and book with us bed bug extermination using Aprehend®. The spray residue remains effective for up to three months.
Prepare Your Home for Spray Treatment & Bed Bug Removal in Toronto
The first thing that you should do to prepare for bed bug treatment in your home is to determine the areas where the infestation is most prevalent. This will help us to know where to concentrate our efforts. We'll also make sure that you know which of your belongings should be removed or otherwise protected, so that you know how to protect them.
Toronto Bed Bug Exterminator
We are the licensed and experienced Toronto Bed Bug Exterminator. We provide reliable and affordable Bed Bug Removal in Toronto and throughout Southern Ontario.
Bed bugs are tiny insects that feed on human blood. They hide in dark places close to where humans sleep and usually crawl out to feed while people are fast asleep. If you have bed bugs in your home, it's unlikely that you'll see one unless you look for them. Bed bugs hide in the crevices of mattresses, box springs, headboards, couches, and other places. They only come out to feed.
Their bites can result in a number of health impacts including skin rashes, psychological effects, and allergic symptoms. Bed bug bites may lead to skin changes ranging from small areas of redness to prominent blisters. It's fairly common to run into bed bug problems whether you run a commercial business like a hotel or vacation rental – or even within your home. Bed bugs can travel into your environment with guests, packages, or even as you travel yourself and bring them back. Bed bugs can be very persistent if not treated properly. Getting rid of bed bugs is imperative – and we offer 24 /7 emergency services to our clients who run into these issues.
BED BUGS: WHO GETS AND CAUSES
Who gets bed bugs?
Anyone can get bed bugs. An infestation can happen even if your home is spotless. Getting bed bugs has nothing to do with good hygiene and housekeeping.
How do you get bed bugs?
People get bed bugs when they bring bed bugs home with them. It's easy to do, and you probably won't notice until you get a bed bug bites. The bugs can crawl into luggage, clothing, and onto other personal items without anyone noticing.
Places that can have bed bug infestations include:
Hotels, motels, and cruise ships
Apartment buildings and condominiums
Shelters
Hospitals and nursing homes
Dormitories
Buses and trains
You also can bring bed bugs into your home in a second-hand mattress or other piece of used furniture.
Bringing home just a few bed bugs can quickly turn into an infestation because:
A female bed bug lays between 200 and 500 eggs during its lifetime
The bed bug's lifespan ranges from 6 to 24 months
A bed bug can survive for 12 months or longer without feeding
Other Pest Control in Toronto
Along with the bed bugs mentioned above, Toronto's most commonly found pests are ants, cockroaches, mice/rats. Toronto residents are likely to encounter one or more of these pests at some point due to the climate as well as the unique geographical and urban/suburban features of the Toronto area.  Vanquish Pest Control is dedicated to helping Toronto residents identify and assess possible pest problems, treat infestations of all kinds, and prevent further issues with service guarantees.
Vanquish Pest Control in Toronto
We have extensive experience providing our full range of pest control services in Toronto in a wide variety of residential and commercial properties, including houses and apartments, retirement residences, vacation rentals, restaurants, and warehouses.
If you are located in Toronto and you suspect that you have a pest problem at your home, business or property, give us a call and one of our team members will be happy to provide a free quote and consultation!
There is no pest control job in Toronto that Vanquish Pest Control cannot tackle, and with our 100% guarantee, you can rest assured that we will solve any pest problem and prevent it from persisting.
Call Vanquish Pest Control for 24/7 Pest Control Service in Toronto
(647) 403-0456
Email us with questions about pest control services in Toronto.